SLOPPY JAWN
Slop's first solo exhibition.
september 16th, 2017
世界的に有名なガラスアーティスト
WORLD RENOWNED GLASS ARTISTS
SLOP!
バイオグラフィ
BIOGRAPHY
2009 [ Project started in Tokyo, Japan. ]
Animation, Manga, Computer Games, Graffiti, Hip Hop, YMO, MJ, Tokyo, DADA, Pandas, Degenerate Art, Bob Snodgrass, Ki-su...
༼;´༎ຶ۝༎ຶ ༽ ༼ꉺɷꉺ༽
過去の展覧会
SLOP curriculum vitae
Past Exhibitions
2017
"Legacy: Biggie & Pac Tribute Show" Just Another Gallery, San Diego, US

"Context Art New York" Black Book Gallery, New York, US
2016
"Context Art Miami" Black Book Gallery, Miami, US

"Life, Lol" Green Planet, Art Basel, Miami, US

"Not Safe For Work" Ruckus Gallery, Philadelphia, US

"Team Japan Show" United Art Space, Vancouver, Canada

"The Adornment Show" Just Another Gallery, San Diego, US
2015
"Life, Lol" Green Planet, Art Basel, Miami, US

"Inglorious Blasters" GooseFire Gallery, California, US

"GALLERIA" Big Galleria Glass Expo, Colorado, US

"All Japan Show" Le Deco Gallery, Tokyo, Japan

"TRAILBLAZERS" Black Book Gallery, Colorado, US
2014
"Counter Culture" Habatat Gallery, Florida, US

"YO-KAI-JU" Original Dampkring Gallery, Amsterdam, Netherlands

"Team Japan Show" Le Deco Gallery, Tokyo, Japan
2013
"ZLOP Show" Made Gallery, Chicago, US
Suntory Toki Whisky
Toki means "time" in Japanese. It's a concept rich in meaning the world over, but particularly in Japan where respect for tradition and reinvention sparks a powerful creative energy. Inspired by that interplay, Suntory Toki Whisky brings together old and new -the House of Suntory's proud heritage and its innovative spirit- to create blended Japanese whisky that is both groundbreaking and timeless.
PuffCo
Born in 2013, Puffco's primary goal is to design the most intuitive, elegant, and innovative experiences for the modern concentrate consumer. Their premium product line has garnered widespread critical acclaim and numerous awards and recognition as the obvious industry benchmark. All Puffco products are proudly engineered in Brooklyn, New York by our in-house design team. Named "Best Vape Pen" by High Times, the Puffco portable vaporizer has the largest ceramic chamber in the industry and gives you the biggest puffs.
Essentia Water
Essentia drinking water is purified through micro-filtration, UV lighting and reverse osmosis; with no chlorine or flouride. Essentia water provides unmatched hydration, health benefits and smooth taste with enhanced pure minerals that are restructured through ionic separation.
MoodMats
All moodmats keep cushy neoprene scraps out of landfills. Moodmats collect and upcycle: wetsuits, gaskets, weatherstripping & other valuable "trash" headed for a dump. We also repurpose over a ton of our own scraps each month. Always upcycled and handmade in the U.S.A!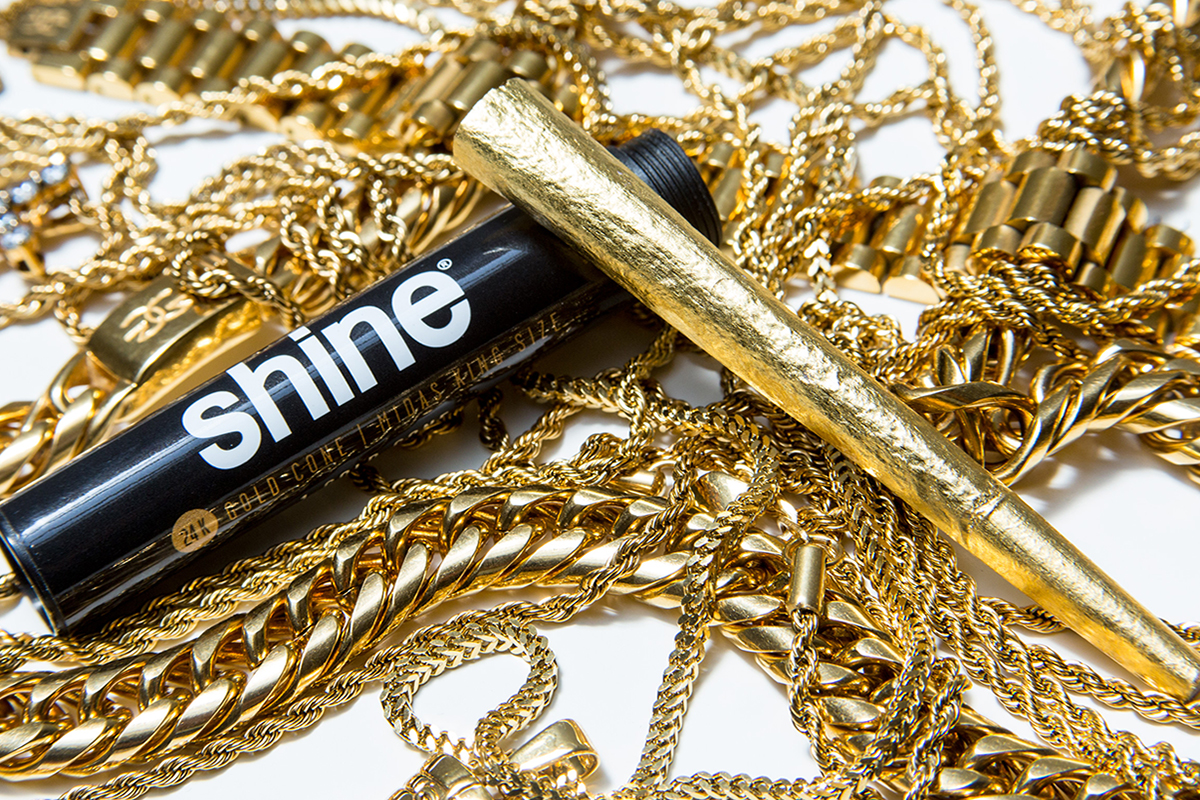 Shine Papers
Shine Papers is the inventor of the worlds first ever 24 karat gold rolling paper and gained quick popularity for people who celebrate 'all of life's highs'. Shine papers burn extremely slow and are known for turning heads. PS: burning these papers leaves quite the gift in your ashtray
Sakitumi IPA | Lagunitas Brewing Company
The Lagunitas brewing company... From points distant and beyond we all converged on Petaluma in 1993 and '94 with an unenunciated desire to be more than we were before....Lagunitas recently launched Sakitumi IPA.
This Raging Bull'uva Double-ish IPA is punched with Sake Yeast and Rice, then hopped-up for a cold-clip of counter-balanced bitterness... it just don't mean a thing if it ain't got that swing!
Oil Slick
Oil Slick is known for their silicone mats, and recently created a silicone release paper that will save time, and money, plus they're super stylish! Oil Slick papers are a major step up from grocery store parchment. Oil Slick's innovative bonding technique plus medical grade silicone produces a paper that is STRONGER AND MORE NON-STICK THAN PARCHMENT.
Rijuice
Rijuice is known for crafting the highest quality juice from the best organic and local produce from Lancaster County. Rijuice sources from and works with some of the best organic cooperatives in the United States, shipping their produce to all across the Northeastern United States, maintaining the Lancaster heritage of the finest agricultural produce.
La Colombe
LC was founded on a simple but profound premise: 'America Deserves Better Coffee'. By sourcing and roasting with care, and borrowing on ancient and modern coffee traditions from around the world, the company has elevated the coffee experience for Philadelphians and Americans alike. La Colombe is a Philadelphia's largest specialty coffee roaster dedicated to making your coffee life better, and has introduced the first ever Draft Latte (a cold latte in a can).
GUNS GARCIA
Regina "Gun$" Garcia is a Washington D.C. bred, Philadelphian that approaches her DJ sets with the goal of playing music that would have her personally cutting a rug on the dancefloor. She's rocked crowds from clubs to festivals and is a pioneer in the Philadelphia DJ scene.
MATTHEW LAW
West Philadelphia native, Matthew Law draws from his vast musical knowledge including Classical to Avant Garde Jazz, Psych Rock to 70's Funk and back, Law incorporates all of these elements into his unique party rocking sets.
DJ SYLO
Forward thinking but rooted in soul, SYLO's productions + selections are as eclectic as they are powerful. From dancehall to house to uk club to ethereal yoga beats and back, SYLO's passion for music and uplifting his crowd glues his sets together, making them compelling and dramatic.
A very special THANK YOU to our amazing event staff, we couldn't have done it without you!
Elizabeth Barrella, Charlene Foster, Leighanne Hamill, Sam Conant, Brendan Zoltoski, Najeeb Shiekh, Irene Stergios, Sara Cassano, Gavin Mcmonigle, Topher Morcos, Candice Johnson, Benjamin Drucker, our awesome security team, Jon Green and of course, TEAM SLOP <3